Big Brothers Big Sisters is honored to celebrate our Class of 2021 matches! Our youth have overcome major challenges to achieve their high school diplomas, an incredible accomplishment in a normal year. With the consistency, guidance and support of their mentors, these young adults will continue to be successful in college, career and beyond.
The Voices of the Class of 2021
Class of 2021: Dulce
Little Sister to Kassiah since 2020
"I'm going to be attending UC Santa Cruz and I'm going to major in neuropsychology. I still see Kassiah in my life; she's more of a friend than a mentor to me. In five years, we already made plans to retake our graduation pictures since we both graduated this year, and I'll be graduating from college then!"
Click here to see photos from Dulce and Kassiah's road trip to tour the UC Santa Cruz campus.
Grettel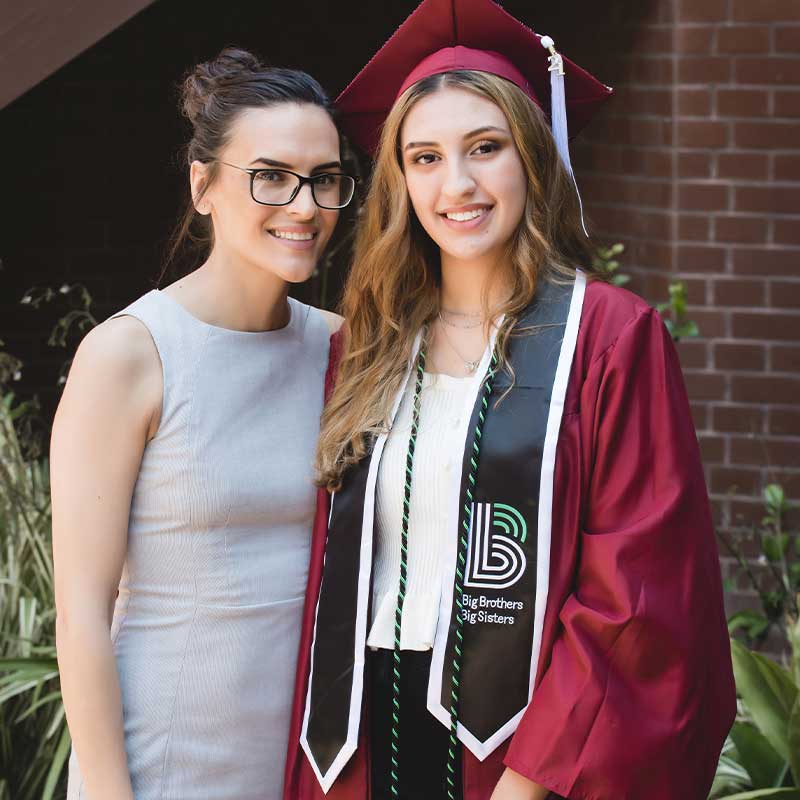 Class of 2021 | Little Sister to Angie since 2020
"My favorite memories with Angie are when she called me every day to see how I was. Just to have a normal conversation with someone, especially during COVID, she was always there for me when I needed someone to talk to.
The best advice Angie gave me was to be passionate about what you love or what you want to do with your life, and enjoy what you're doing because that's the whole point."
Alissa
Class of 2021 | Little Sister to Alejandra since 2016
"In the beginning of my senior year, it was hard at first doing online classes. Alejandra has helped me with getting my portfolios done so I can graduate on time. My plans after I graduate are to get a full-time job and make music on the side. Alejandra is very supportive of my plans.
Alejandra is special to me because she's always there for me and gives me the best advice. I love having her as my mentor. She has helped me get through so much."
Because of mentorship, the Class of 2021 futures are bright. We appreciate and applaud the mentors who have walked alongside them to this incredible achievement, and we are excited to continue to support these matches on the next steps they will take together on their mentorship journey. Congratulations to the Big Brothers Big Sisters Class of 2021!