Every year, Big Brothers Big Sisters recognizes two outstanding volunteers who have gone above and beyond as mentors. The Big of the Year winners are announced on Thank Your Mentor Day, part of National Mentoring Month.
Estela Rubio, 2021 Big Sister of the Year
BIG SISTER TO ANNISSA SINCE 2014
Estela Rubio has been named the 2021 Big Sister of the Year for her unrelenting dedication not just to her Little Sister Annissa, but also to advancing youth mentorship throughout her community.
Estela always knew she wanted to help raise up her community by getting involved in a local nonprofit, so when she heard about Big Brothers Big Sisters, she jumped at the opportunity to make a difference.
"I knew that I may not be able to conquer the world, but as a Big Sister, I could change the world of a little girl," Estela said.
At 8 years old, her Little Sister Annissa had not had much social interaction outside of her family, and she struggled to open up and communicate with others. Estela patiently worked to build up Annissa's trust and provided tools on how to better process her emotions. Now Annissa has an even better relationship with her mother and brother, and she knows that she can always go to Estela to talk about difficult emotions she needs to work through.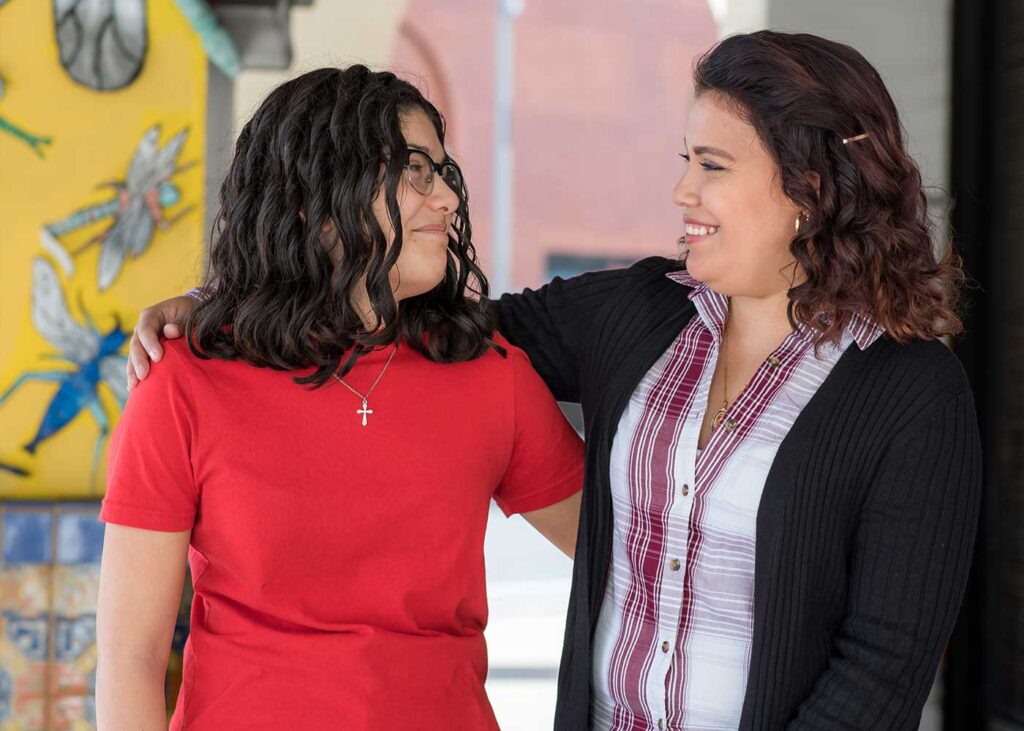 Annissa was a junior bridesmaid at Estela's wedding, and she was very excited to become a "big sister" herself when Estela had her first son. Estela was there to help guide Annissa as she started high school this last year and started to make plans for college and beyond. Estela has also been there as Annissa's biggest support system while her mother battles cancer, taking her to soccer games and picking her up after school to escape on a fun adventure.
"My role is as it has always been, to encourage Annissa to grow out of her comfort zone, challenge her thoughts, preserve her dreams, and continue to be that shoulder she can rely on," Estela said.
With her big ambitions and her Big Sister by her side, Annissa's future is looking extremely bright. Now a freshman in high school, she was accepted into the International Baccalaureate® (IB) program and has set a goal to become soccer captain by her sophomore year. Annissa is also excited to start AP classes and work her way toward her dream of going to college to become a microbiologist.
Estela is both an inspiration to her Little Sister and our community. When she first became a Big, Estela recruited her biological sister to volunteer. Together, the two led our successful #MentoringMatters t-shirt fundraiser during National Mentoring Month in 2019.
Estela has also helped expand our volunteer outreach into our local Hispanic community. During Hispanic Heritage Month last year, she was an ambassador on social media, sharing about what it was like being born a first-generation Mexican-American. She also opened up about her experience as a mentor and why she believes it is so important for other members of the Hispanic to become mentors as well.
In March, Estela was also named California's 2021 Big Sister of the Year! Click here to read the announcement.